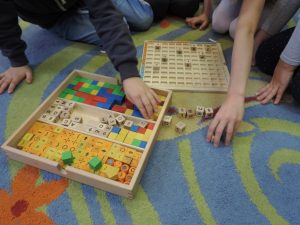 The EduMix method in early school education – children learn programming
SUMMARY and OBJECTIVES of the EduMix training
The EduMix method has been developed by a team of experienced teachers. It is a modern didactic and methodical solution, both in terms of acquiring skills, knowledge, shaping the attitudes resulting from the core curriculum of early school education.
The EduMix method penetrates all educational areas, triggering the potential, which is needed to create computational, algorithmic, mathematical and programming paths. Material is introduced in a  spiral order to facilitate faster learning.
The teacher of early school education using the EduMix Method, becomes a classroom facilitator who creates a comfortable space for learning computer science. The students themselves, in an unconstrained way, set out the paths of their own development within the given unit of study – the thematic module.
The EduMix method puts special emphasis on setting goals together with the student. The student also proposes his or her tasks, and the teacher accepts them, in order to analyze together with the pupil  the correctness of the solutions and point out the paths to seek further development.
EduMix is a modern didactic and methodical tool that has been rated highly by teachers who use it in a classroom.
During this 10 days course  participants learn about this innovative educational tool  – how to incorporate it to different areas of early school education and how to encourage student's creativity while learning programming skills. Important aspect of programming education is "computational thinking", which is necessity of modern civilization.
COURSE PROGRAME:
DAY 1
Participants arrival.
Individual orientation and information about the venue and the city.
Introductory meeting.
Welcome dinner.
Cultural activities in Cieszyn (optional).
DAY 2
Module I
EduMix method – areas of application.
Introduction to teaching of programming. Elementary activities in area of mathematical education.
DAY 3
Module II
Application of EduMix method in the field of language and social education.
DAY4
Sightseeing and cultural activities in Cieszyn and Czech Cieszyn.
DAY5
Guided visit in one of the major Polish cities.
DAY 6
Module III
Application of EduMix method in programming and in areas of environmental education, ecology and health.
DAY 7
Module IV
Application of EduMix  – programming in the field of plastic and technical arts.
DAY 8
Module V
Application of EduMix – programming in the field of music education and movement.
DAY 9
ModuleVI
Application of EduMix – advanced activities in the field of mathematical education.  Introduction to IT education ("Scratch on the carpet").
DAY 10
Module VII
Application of EduMix – activities in the area of IT education and programming teaching ("Scratch on the screen").
Study visit to a local kindergarten and/or primary school.